Build Your Future in Public Services
The Administration of Justice Department prepares students for careers in local, state and federal law enforcement, security, and court administration. Courses within the programs offered acquaint students with the American criminal justice system, criminal law, evidence procedures, investigations, and forensics.
Paralegal Studies is an approved program by the American Bar Association (ABA). It provides the education and skills necessary for graduates to work under the supervision of an attorney as a critical member of the legal support team in all areas of law and assist lawyers by investigating facts, preparing legal documents, or researching legal precedent.
Explore Programs in Public Services
Frequently Asked Questions
Placeholder
Placed here so accordion tabs are closed on page load. Placed by Brain Jar.
WHAT ARE MY ACADEMIC OPTIONS?
Entertainment Production & Design
Stage Management
Performance
HOW MUCH DOES IT COST?
The cost is $46 per unit. Non-resident tuition: $258 per unit PLUS enrollment fees (Non-Resident Tuition includes $19.00 Capital Outlay fee per Ed Code 76141).
Costs may vary; please visit website for more information: http://admissions.fullcoll.edu/fees-refunds/.
HOW LONG DOES IT TAKE?
Associate degree or certificate completion depends on program unit requirements and whether student is enrolled full-time or part-time.
WHAT TYPES OF JOBS ARE IN THIS INDUSTRY AND WHAT DO THEY PAY?
For information on jobs in this industry sector and their median annual salaries visit: https://www.bls.gov/ooh/
Career opportunities include:  
Administration of Justice
Police Officer
Public Safety Officer
Sheriffs
Deputy Sheriffs
Police Identification
Records Officer
Detective
Criminal Investigator
First-Line Supervisor
Private Detective
Correctional Officer
Paralegal Studies:
Certified Paralegal
Immigrational Paralegal
Law Clerk
Legal Analyst
Legal Assistant
Legal Clerk
Paralegal
Paralegal Specialist
WHERE DO STUDENTS WORK?
Administration of Justice
Law enforcement
Corrections
Homeland security
Private security
Academia
Legal Services
Paralegal Studies:
Law firms
Offices of lawyers
Local government
Like what you're learning?
Fullerton College offers a robust selection of programs, including over 140 Career and Technical Education options for anyone interested in advancing in a profession, or seeking training for new career opportunities. With guidance from seasoned instructors at Fullerton College, learn and engage in the college's modern facilities, gain the skills and knowledge to succeed, and thrive in today's high-demand industries.
Student and Success Stories
Fullerton College offers its students a comprehensive academic experience, in a real college setting.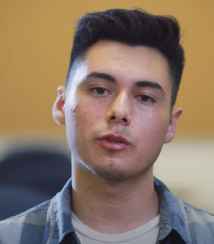 After Taking All the Courses
"After taking all the courses, you can actually become a certified interior designer. Fullerton College is one of the only programs in Southern California to be accredited by the State and they teach you the basics that you need to know in the industry. The lighting class has really taught me alot, such as how to select the proper lighting for a room, and also how to bring down energy costs."
– Alberto Gonzales
Interior Design
The Cosmetology Program
"The Cosmetology Program really prepares you for what your goal is. I love that you have the ability and the freedom to create whatever you want. They teach you the foundation of working at a salon, and so from there you just build on to what you've learned here."
– Daisy Murillo
Cosmetology